One of the best-loved characters in my Diary From The Corner Dairy is back on duty, Alan Tristram reports.
Larry Ogg has been running dairies in Paekakariki, Raumati South and Raumati for so long he can't retire. And no one would, or could, sack him.
Four Square with Larry
So when the redoubtable Patel family took over the Raumati Four Square they adopted former owner Larry as well.
They've looked after his so well we've christened him Larry Patel.
When he was hospitalised earlier this year for a hip operation, it was the Patels who kept visiting him through thick and thin.
Larry had a difficult recuperation and ended up at Eldon Lodge, but the Patels mainained their watch — and got him back to work.
Special perks for Larry
They even provide a taxi service to get him to the Dairy when he didn't feel like walking.
So he's well looked after, with the Patel women — Geetaben, Deempalben and Grandma — even providing Indian takeaways (well Indian take-ins actually) at lunch time.
Then he's back at the counter to serve the steady tide of customers who ceaselessly flow in and out.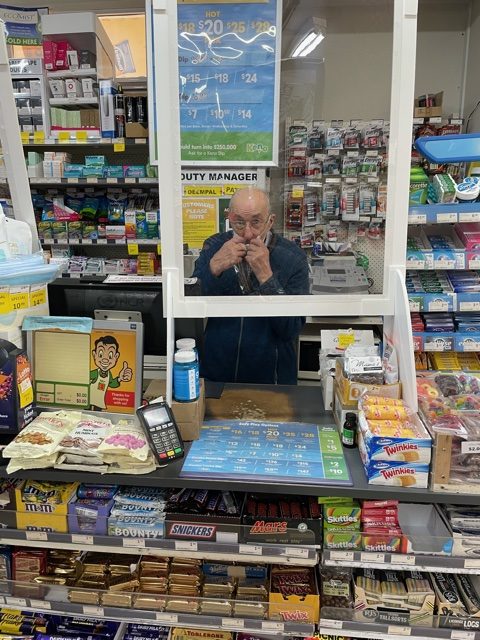 One of the Coast's key characters
I've known Larry and his late wife Carol for so many years he's become a key part of my daily routine. The Dompost just isn't the same without his comments.
Anything the KCDC is doing or not doing, or messing up, can be discussed with Larry.
And of course he is an expert on the All Blacks, the Hurricanes — and the Indian cricket team. Who wouldn't be when working with Kamal Patel, one of the rising stars in local cricket?
It's all a long way for Larry from his tough early life on a farm near Eltham.in Taranaki.
But it's even further — from Gujarat — for Shirish, Kamal, and their families.
But all are now Kiwis, settled in Raumati, part of the new rainbow nation of Aotearoa.
Just ask Larry… or this customer.