An Iwi/Crown partnership will provide relocatable, insulated houses for a remote community in the Bay of Plenty.
The project in the remote eastern Bay of Plenty community of Raukokore shows how iwi and Crown agencies can provide warm, dry, homes in a region with high need and little supply.
By the end of August 16 new homes and eight renovations will have been delivered.
The rent-to-buy homes will provides a pathway to home ownership — and they'll be connected to a new solar plant
Built in record time
The housing is being delivered in record time by using relocatable 'Built Smart' homes, constructed in Huntly and transported to Raukokore, close to the East Cape.
The homes arrive fully insulated and are being connected to a new solar plant, replacing costly diesel generators.
Te Whānau a Maruhaeremuri Trust and Maru Ora Ltd. have partnered with Crown agencies including Te Tūāpapa Kura Kāinga – Ministry of Housing and Urban Development, the Ministry of Business, Innovation and Employment and Te Puni Kōkiri on projects to increase housing supply and help address homelessness.
'Tackling issues of homelessness'
"I commend local iwi for their can-do attitude in tackling issues of homelessness and whānau living in sub-standard accommodation," says the Hon Peeni Henare, Associate Minister of Housing (Māori Housing).
"I'm delighted to see this partnership with government working to deliver new homes in a matter of months." Peeni Henare said.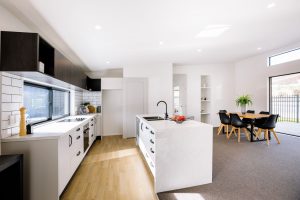 The Ministry of Business, Innovation and Employment (MBIE) provided funding for the 40 kW solar plant – enough to supply the electricity needs for eight houses. Locals say winter is the biggest challenge when having to rely on diesel generators to warm their homes.
The multi-generation whanau moving into the prototype Built Smart home had been making do in a run-down post office building.
"This will help reduce power bills, boost housing standards, provide a pathway to home ownership, and help drive innovation in the renewable energy sector," says Megan Woods, Minister of Energy and Resources and Minister of Housing.
"We know energy hardship is a real problem for whānau so this partnership has the potential to really change lives.
Te Maihi o te Whare Māori
Te Maihi o te Whare Māori – the Māori and Iwi Housing Innovation (MAIHI) Framework for Action sets a precedent for working in partnership with Māori. It requires Te Tūāpapa Kura Kāinga to work collaboratively across government to support a coordinated approach to delivering housing solutions with iwi and Māori.
The MAIHI Partnerships Programme provides a 'no wrong door' approach for iwi and rōpū Māori looking to increase housing supply that attends to whānau needs, prevents homelessness and improves Māori housing security.
Te Tūāpapa Kura Kāinga is working with Te Matapihi and Te Puni Kōkiri to develop a new Māori Housing Strategy through MAIHI.
Whānau have been returning to the rohe out of a sense of safety from Covid-19 within tribal boundaries and because there are jobs ranging from orcharding to engineering and related industries. Job opportunities have been boosted by funding from the Provincial Growth Fund.
Builtsmart projects
Builtsmart say they supply affordable housing throughout the North Island.
"We have recently been engaged into a contract to supply much needed Iwi homes throughout the Eastern Bay of Plenty and the Gisborne region.
"Our Factory which is based in Huntly has 45 x covered Build bays, this allows us to build houses on schedules without any weather delays.
Current lead times for orders of 10 + houses is approx. 20 – 25 weeks from signing a contract to delivery onsite.
KIN asked Builtsmart for a ballpark cost — and they say: "A 97m2 3 x Bedroom home fully completed and ready for transport will cost you $188,110.00 + GST."